By ZOË WATKINS
zwatkins@bedfordcountypost.com
Saturday saw another successful MRT Graduation Day for nine current and former inmates at the Bedford County Jail.
Through many tears of joy and stories of failure and success, the female graduates received a certificate of completion and a rose to symbolize their growth.
MRT stands for Moral Reconation Therapy. It's a 16-step program that focuses on pinpointing how each individual got into jail. Every level is difficult and not everyone passes each step. The program can take anywhere from four to 12 months to complete.
One graduate named Elena said, "The program has taught me to rise above my past."
Another graduate, Marquita, said, "This program helped me get right in my mind."
The driving force behind implementing the MRT program in Bedford County is Lt. Chris Cook, program's director at the Bedford County Correctional Facility, who had been working for eight years to get a program at the jail.
Due to a last-minute change of venue, the graduation was held at the Shelbyville united Pentecostal Church.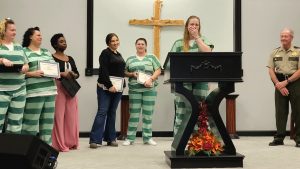 After briefly explain what MRT is, Lt. Cook went into the "why" of the program. He said, in 1999, there were 20,000 overdose deaths reported across the nation. As of 2021, there have been over 100,000 overdose death, and according to Cook, that number will only continue to grow.
"These people are what we do this for. It's for the people," said Cook.
Cook explained that the program takes in the "hard cases." That is, they take in repeat offenders who have been in and out of jail multiple times.
Many of the women graduating shared their stories of addiction as well as their sobriety and redemption stories.
One former MRT grad, who was one of the first classes to graduate, spoke during the ceremony. She told how she had been addicted for 15 years and how, as of today, this is the longest she has ever been sober.
She also said since her release from prison she has been able to find a job and regain custody of her son. "And it just keeps getting better," she said through tears.
Another graduate who spoke said, "I wouldn't trade anything in this world for my last year in jail." In her last year in jail, she not only completed the MRT program but also to completed her GED. Today, having been out of jail since June, she has a job.
Finishing up the ceremony, Cook said, "Isn't this wonderful? And I get to do this every day."
He said there have been 100 people from the Bedford County Jail to have completed the program. Of those 100, only five have been arrested again after completion.
This statistic highlights the goal of the program: to decrease recidivism rates.
Cook said he sits down with each individual prior to starting the program. "I tell them all I can offer you is hope," he said.
One graduate named Robin, who has broken a 23 year cycle of addiction, said, "This is the change our families hoped to see in us…You've given our families their daughters back, their mothers and sisters back."
She said she used to be a "functioning addict," and that through MRT, she learned that the only person she was "fooling" was herself. She also said the program teaches them how to be accountable of themselves.
"Wonderful things await us in sobriety," she said. "We are much better healed than we ever were broken."
Or as graduate Eva put, "I won't be another statistic."