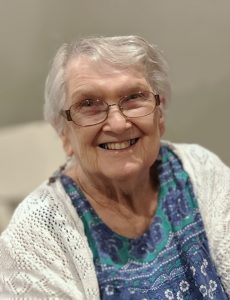 Bonnie Lou Ward Rucker, age 93, of Bell Buckle, Tenn., passed from this life on Friday, October 6, 2023, at Lynchburg Nursing Center.
Bonnie was born in Little Falls, Minn., on September 5, 1930, to the late Harris and Gladys Clark Ward. Along with her parents, she was preceded in death by her beloved husband, Samuel Reid Rucker, III; son, David Lee Rucker; brother, Phillip Ward; and twin sister, Connie Lee Pratt.
Mrs. Bonnie was a loving mother and homemaker to her family, as well as a loyal Air Force wife to her husband of 48 years. Before she married, she was a licensed pilot and worked for Braniff Airlines as a teletype operator. When her husband retired from the military, she worked as town secretary and recorder for Bell Buckle, a position she held for many years. She was a faithful member and Sunday School teacher at Faith Baptist Church of Shelbyville.
She is survived by: children, Samuel "Reid" (Debbie) Rucker, IV of Pahrump, Nev.; Dale Keith (Linda) Rucker of Bell Buckle; Betty Dawn (Brad) Brown of Suffolk, Va.; and Jennifer Rucker Jones of Bell Buckle; daughter-in-law, Mary Brewster Rucker of Shelbyville, Tenn.; and former son-in-law, Larry C. Jones, Jr. of Morrison, Tenn.; grandchildren, Jeannetta (Jay) Norris, Jessica (John) Basinger, Daniel (Amanda) Rucker, Stephanie Rucker, Marianna (Andy) Gibson, Ryan (Crystal) Brown, Matthew Brown and Savanna (Lance) Ruis; 18 great-grandchildren; one great-great grandchild; brothers, Lloyd, Doug, and Paul Ward; sisters, Judy Alexander and Mary LaBianco; also, many nieces and nephews.
A Celebration of Life Service will be held 5 p.m. Friday, October 13, 2023, in the chapel of Doak-Howell Funeral Home with Craig Pratt officiating.
Visitation will be held prior to the service, beginning at 3 p.m. on Friday, at the funeral home.
In lieu of flowers, the family requests memorial contributions be made to Faith Baptist Church Missions. Mailing address: Faith Baptist Church, PO Box 292, Shelbyville, TN 37162.
Doak-Howell Funeral Home is serving the family.