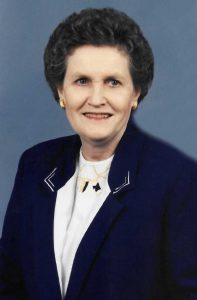 Charlotte Blythe Williams Burton, 89, homemaker and resident of Culleoka, died Tuesday, September 12, 2023, at NHC Maury Regional Transitional Care.
Funeral services were conducted Saturday, Sept. 16, at 2 p.m. at Oakes & Nichols Funeral Home with John Vaughan officiating. Burial followed at the Friendship Cemetery. The family visited with friends on Saturday from noon until service time at the funeral home.
The family suggests memorials to Culleoka Church of Christ, 2225 Church Street, Culleoka, TN 38451 or to a charity of one's choice. Condolences may be extended online at www.oakesandnichols.com.
Born April 23, 1934 in Williamson County, she was the daughter of the late Charlie Williams and the late Lucy Margaret Cole Williams. Her mother taught her first grade at home. She attended Bethesda School until her junior and senior years. She graduated from Franklin High School in 1952. She then attended Middle Tennessee State College for two years. On August 6, 1954, she married James Douglas Burton who preceded her in death February 2, 2022. For many years, Mrs. Burton was a substitute teacher at Culleoka Unit School. She was a member of Culleoka Church of Christ. As did her husband, she made her home in Culleoka for almost 70 years. Neighbors were family as Mrs. Burton was active in the community for many years.  Her childhood growing up on a farm surrounded by family and being an active member of 4-H, helped mold her into a very resourceful and talented person. She supported her husband in life as they raised their two children. Her grandchildren along with countless other young people were cherished and entertained with her warm demeanor.
The family would like to thank her special caregivers who cared for our mother and enabled her to live at home which she so enjoyed: Stacy Counts, Troy Counts, and Martha Simms.
Survivors include her children, Anne (William) Davis of Columbia; Jimmy (Mary Gay) Burton of Shelbyville; grandchildren, Lucy (Dillon) Davis of Cookeville; Alan Davis of Mt. Juliet; Maggie Burton of Nashville; Abby Burton of Shelbyville; sister-in-law, Faye Burton; several nieces, nephews, great-nieces and great-nephews.
In addition to her parents and husband, she was preceded in death by her brother, Robert Williams; and sister, Lucy Evelyn Mashburn.
Active pallbearers will be Robert Thompson, Jason Hardison, Tony Dugger, Troy Dugger, Wesley Hickman, and Dillon Bert.