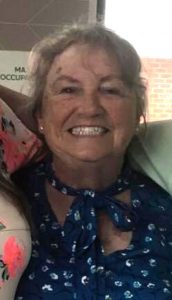 Glenda Fay Hill, 78, of Shelbyville died Saturday, September 16, 2023.  Funeral Services were held1 p.m. Tuesday, September 19, at Hillcrest Funeral Home with Rev. Jeff Rasnick and Aubrey Cawthon officiating. Burial followed at Hillcrest Memorial Gardens.  Visitation began at 11 a.m.
She was born July 19, 1945 in Coffee County; a retired employee of Albea of Shelbyville and a member of First Baptist Church of Shelbyville.    Glenda was preceded in death by her parents, Francis Marion and Beatrice Cunningham Rust; a daughter, Tina Fay Story and a sister, Linda Lokey.
She is survived by her husband of 53 years, George D. Hill; two sons, Bobby Joe Vandygriff Jr. of Shelbyville, George Edwin(Regina) Hill of Tullahoma; brother, Wayne Rust of Bell Buckle; sisters, Jeanette Kirby of Hillsboro, Jane Carr of Murfreesboro, Dona Gann of McMinnville; seven grandchildren and several great-grandchildren.