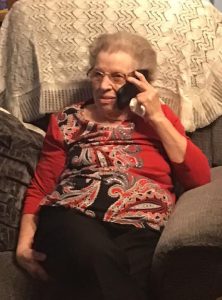 Martha Jean Edde Anderson, age 95 of Shelbyville, passed away on Wednesday, November 8, 2023, at Bailey Manor in Manchester.
She was born in Moore County on August 4, 1928, to the late James Edward and Mattie (Durham) Edde Sr.  Before her retirement, she had been employed by Jack Daniel's Distillery.  In her spare time, she enjoyed quilting, needlepoint, and reading, and had quite the "green thumb" growing her flowers.  She also enjoyed watching basketball, as well as classics such as Oklahoma and Gone with the Wind.  Martha Jean was a wonderful cook and enjoyed making meals for her beloved family.  All who knew her will remember her loving and caring personality and beautiful soul.  She was a member of the Church of Christ.
In addition to her parents, she was preceded in death by nine siblings; infant son, David; and son, Billy Wayne Anderson.  Martha Jean is survived by her children, Jimmy (Marlene) Anderson, Regina (Tony) Brown, Judy (Terry) Patterson, and Danny (Rachel) Anderson; seven grandchildren; 10 great-grandchildren; two great-great-grandchildren; sister, Tiny Conley; and several nieces and nephews.
Visitation will be from 11 a.m. to 2 p.m. on Saturday, November 11, 2023, at Jennings-Moore-Cortner Funeral Home in Lynchburg.  Funeral Services will follow at 2:00 pm in the Chapel of Jennings-Moore-Cortner Funeral Home with Bro. Mike Awalt officiating.  Interment will follow at Lynchburg Cemetery.
In lieu of flowers, memorial donations may be made to Alzheimer's Tennessee, 5801 Kingston Pike, Knoxville, TN 37919.  Jennings-Moore-Cortner Funeral Home, 181 Majors Boulevard, Lynchburg, Tenn., is in charge of the arrangements.