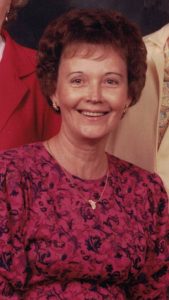 Mary Lou Holden, 90, of Wartrace, died Oct. 29, 2023. Funeral Services will be held 12 p.m. Thursday, Nov. 2, at Hillcrest Funeral Home with Jeff Collet officiating. Burial will follow at Miller Cemetery in Christiana.  Visitation will begin at 10 a.m.
She lived most of her life in the Christiana Community; retired from General Electric in Murfreesboro and was a member of the Church of Christ.
She was preceded in death by her parents, Hubert and Annie Lou Faulk Jacobs; grandson, Chris Douglas; brothers, Hubert Gordon Jacobs and Billy Jacobs; sister, Catherine Woods.
Mary is survived by her children, Deborah (Mike) Trotter,  Dennis (Bonnie) Holden, Dale (Tammy) Brady; grandchildren, Kelli (Michael) Overstreet, Robyn (Shannon) Pulley, Christi (Josh) Nichols, Clint (Hope) Holden, Mark (Priscilla) Douglas, 14 great-grandchildren; two great-great-grandchildren, and two sisters, Martha and Jean Jacobs.