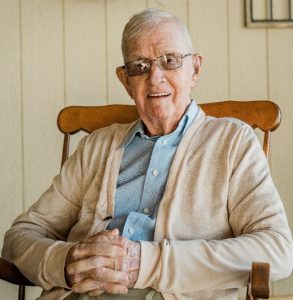 Rev. Frank Mazy Edwards, 93, of Belfast, Tenn., went to be with his Lord and to his heavenly home on Sunday, October 22, 2023, at his residence in Belfast under the loving care of his family, caregivers, and Hospice Compassus. Family and friends gathered for a Homegoing and Life Celebration at the East Commerce Baptist Church, 560 East Commerce Street, Lewisburg, Tenn. on Saturday, October 28, 2023, at 3:00 p.m. with burial following in Head Springs Cemetery, Belfast, Tenn. Visitation with the family was at the church on Saturday starting at 11 a.m. and continued until the funeral hour.
A native of Shelbyville, Tenn., he was the son of the late Vasco Amerigo Edwards, Sr. and Bettie Earlene Bragg Edwards. He attended McDale School and Shelbyville Central High School and was a graduate of Harrison-Chilhowee Baptist Academy, Seymour, Tenn. He attended Cumberland University, Lebanon, Tenn., and held a Bachelor of Science in History and Master of Education Administration degrees from Middle Tennessee State University. He graduated from New Orleans Baptist Theological Seminary with a Bachelor of Divinity and Master of Religious Education degrees. While there he met and married his wife of over 6o years, the late Eva Richardson Edwards, formerly of Martinsville, Va.
He was a Baptist pastor for 64 years. Local churches he served included Cornersville First Baptist Church, Holts Corner Baptist Church, and Hannah's Gap Baptist Church, Petersburg, from which he retired in 2012 having served for over 41 years. He also served as a chaplain for the Marshall Medical Center and was a member of East Commerce Baptist Church.
A 30-year educator, he taught and served as principal at Forrest School, Mooresville School, Belfast School, Pleasant Grove School, and Liberty School from which he retired after serving as a Middle School English & 6th Grade teacher, boys & girls basketball coach, and principal. His English students well remember him stating while handing out graded assignments, "It looks like I've been killin' hogs this morning." He was the Marshall County Superintendent of Schools (1972-76).
A longtime active and well-respected member of the Belfast community, he was a member of the Belfast Lions Club in which he served in many capacities including president. The club honored him as a Melvin Jones Fellow in 2010. He served as president of the Belfast Volunteer Fire Department Board of Directors for approximately 25 years where he oversaw the organization of the department, construction of the fire hall and the acquisition of land, fire trucks, and equipment. He was the owner/operator of Edwards Brothers Lawn Care for over 30 years and ran the business mostly by himself up until he hired someone else to do the work when he was almost 81. He was an avid gardener and farmer having raised beef cattle, hay, and tobacco for many years.
In addition to his parents and his wife, he was preceded in death by his daughter, Donna Edwards and two sons, Tim, and Donnie Edwards; brothers, Avery, V.A., Delaney, G.W., Bryant, Bobby, Tom Lynn, and Don Edwards; and sister, Sylene Gregory. Their parents dubbed the nine brothers "The Baseball Team" with their sister always adding, "And I'm The Umpire."
He is survived by his son, Ronnie (Jeanne) Edwards of Shelbyville; daughter-in-law, Debbie Edwards, Medical Lake, Wash.; grandsons, Joseph (Sara), Jamison (Sara), Jesse, Tucker, Mark, and Jonathan Edwards; granddaughters, Caley (Brad) Bothun and Mary Margaret Edwards; great-grandchildren, Gabriel, Esther, Leah, and Naomi Edwards, and a host of extended family and friends.
Memorials may be given to The Care House, PO Box 579, Shelbyville, TN, 37162, or the charity of choice.
London Funeral Home and Crematory, 324 West Church Street, Lewisburg, TN is honored to be in charge of arrangements.