By MARK MCGEE
mmcgee@bedfordcountypost.com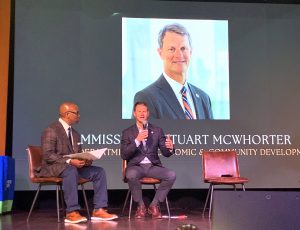 Shelbyville and Bedford County are on the move.
That was the belief of Stuart McWhorter, Tennessee Commissioner of the Department of Economic and Community Development.
McWhorter was the keynote speaker at the third annual meeting of the Shelbyville-Bedford Partnership. Approximately 130 guests ate prime rib at The Humble Baron at Nearest Green Distillery while hearing about the bright prospects for the future of the county.
Keith Weaver, co-founder of Nearest Green Distillery welcomed everyone. He was also recognized for his many efforts in helping to develop new ventures in Shelbyville and Bedford County.
Shane Hooper, president and CEO of the Shelbyville-Bedford County Partnership served as the facilitator during the evening's program.
Special guests and supporters were State Representative Pat Marsh and State Senator Shane Reeves.
McWhorter explained Bedford County is benefiting from the growth of Davidson County, Rutherford, and Williamson counties.
"It just continues to grow outside of that core," McWhorter said. "I have been in Nashville for almost 30 years. These counties continue to expand. Bedford County will benefit from that growth.
"You have people who are looking for a quality of life, a lower cost of living and all of those things start to factor in. As a result, Bedford County benefits from that."
While Bedford County is benefiting from the growth surrounding counties it is also being harmed as local people shop in Murfreesboro and Tullahoma, especially for groceries.
"I know economic development is important to all of you and that means it is important to me," Hooper said. "Bedford County loses for various reasons an estimated $40 million a year in grocery sales. At a 2.75 percent sales tax rate that is $1.1 million in revenue each year."
McWhorter pointed to the educational opportunities in the area such as Motlow State Community College, Middle Tennessee State University and the Tennessee College of Applied Technology as major plusses as well.
"What we are seeing in the work that we do in our department are institutions like these coming together and finding ways to educate and train an upscale workforce," McWhorter said. "If the workforce can't support an industry you have a tough time and people realize that."
Often times it is all about "location, location, location".
"Logistically speaking, you think about the central location here," McWhorter said. "You are close to a lot of things. You can fly anywhere in the world from the Nashville airport (BNA) and it continues to grow. I don't think people have a problem driving an hour to get to the airport."
The State of Tennessee is attracting new residents from many parts of the country. Shelbyville and Bedford County and other regions around the state are experiencing the same kind of growth as a result.
The Nearest Green Distillery site is one of the top most visited places in the country. The county needs to find other ways to continue to promote tourism growth.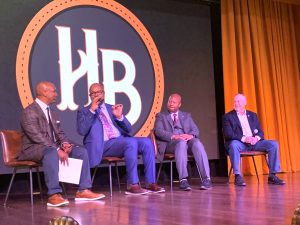 "In tourism we are ranked No. 49 currently of the 95 counties," Hooper said. "The goal is to move up to No. 45.
"Tourism in Bedford County generates $154 per household in tax savings. The state average is $1,100."
Another key to keeping Bedford County in the loop for future growth is broadband, an area where work is being done here.
"Broadband is something doing out of our department through grants," McWhorter said. "Broadband is very, very critical. People want to be able to work from anywhere they want to, but they have to have access to broadband do their jobs. I'm hoping in the next few years to see the state fully covered. That is our goal."
Growth has been applauded in the city and county, but McWhorter has seen communities respond to too much growth.
"There is some vibrancy happening. Here in Bedford County," McWhorter said. "I don't see that slowing down.
"I also think the community will come together and decide what is best. In other parts of the state some are saying we don't want another 5,000=job project or 10,000 – job project. We want a 100- job project. Ultimately, a community needs to decide what it wants."
McWhorter praised the work of Hooper in helping to attract new businesses and industries to the county.
"Shane is dynamic," McWhorter said. "He is very relational. He is extremely bright. He understands how things work.
"He is obviously a leader. You can see it just by being around him. He draws people to not only gather, but to work together, when he says he is going to do something he does it. He is very thorough. That is so important for us to do our job and for me to represent the Governor (Bill Lee). We need to have people like Shane to lead and corral folks together for the common good of the community."