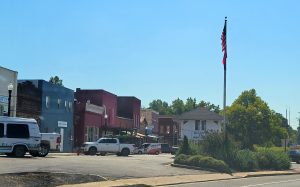 By ZOË WATKINS
zwatkins@bedfordcountypost.com
After an emotional work session on Oct. 19, the Wartrace Board Aldermen are considering recommending that Mayor Brian Ross resign.
Though it was not published on the meeting agenda or formally submitted, the board discussed some critiques of the mayor during their regular meeting last week.
Aldermen cited during the BOMA meeting that Ross "micromanaged" city employees, did not communicate with the board, and did not properly follow the budget.
"Leave the employees alone; stay out of the office," said Alderman Joe McCurry. "We're here to help you because you've got to consult with us.
"We're the ones that have live with the decisions you make."
The Board consists of aldermen Benjamin Cataldo, Shelia LeDere, Joe McCurry, Sonia Miller, and Stacy Roach.
Roach emphasized that the mayoral position was a part-time, not a full-time position. "This board is responsible for the town," she said.
She also said her biggest concern is with the new water manager that has been hired. "Employees will leave if this behavior continues."
Ross combated the criticism saying that, "This is the first time I'm hearing of this."
When asked by the Bedford County Post for comment over the phone, Ross said he did not want to comment at this time, saying, "I'm still on office." He told the Post he was not formally asked to resign.
He also briefly mentioned they created a "game plan" for better commination in the future. "I told them I want to stick around and that I'm not going to resign," he said.
Bedford County Commissioner Eric Maddox, of District 1, attended the BOMA meeting on Monday, Oct. 23.
"I did attend the meeting on Monday night, and they (Aldermen Board) brought it up at the end of the meeting. They asked him (Mayor) if he gave it any thought (apparently regarding them asking him to resign last Thursday), and he replied that…'I would like to see you all next month and the month after.' The issue as pressed again by several Aldermen, as they gave examples of many times that they felt that the mayor fell short. Here were several more back and forth comments made, but the discussion never landed on a solid solution or resolution. I am not sure what their intended next steps are.
"I personally find it disheartening that we have a town full of good people (citizens) that trust that good decisions are being made and carried out in the city of Wartrace, and this type of activity is taking place. There needs to be more emphasis and immediate action placed on the big issues, such as the water issue that has plagued the town for way too many years. I am encouraging more citizens to get involved and attend these local meetings."
The next BOMA work session is Nov. 16 at 5:30 p.m. at the Town Hall in Wartrace. The regular meeting will be the following Monday, Nov. 20, at 5: 30 p.m.